The first implementation of a smoke detection function by video analytics over images from color CCTV cameras was proposed by Evitech in its LYNX product in 2015 and it was validated by the French fire experts of the CNPP in 2016 according the norm EN 54-7 criteria. Initially based on an algorithmics approach, this function is today also available based on an AI recognition and is proposed in our two products Lynx V4.0 and Jaguar V4.1). It will soon be deployed over 2400 cameras abroad.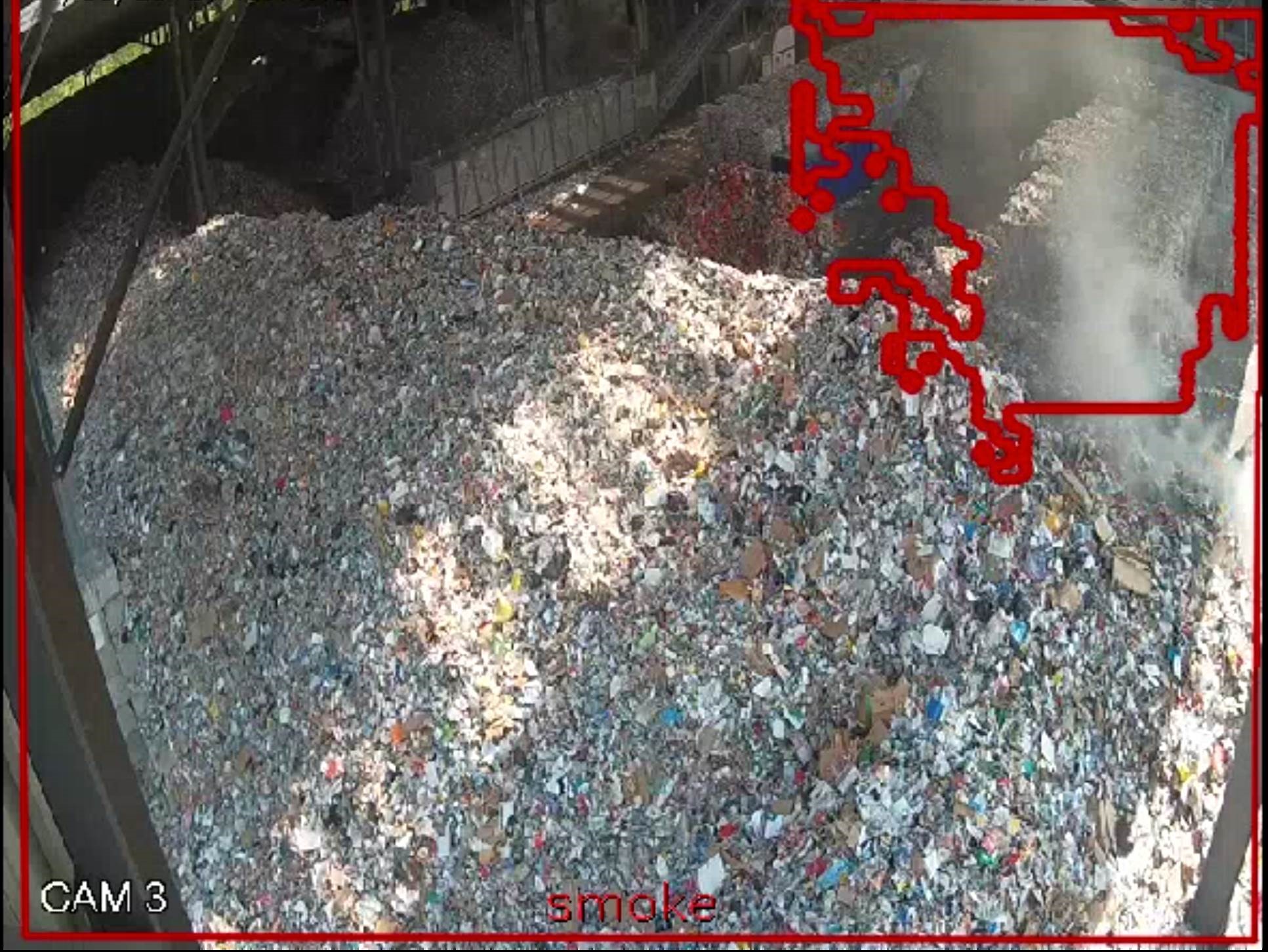 The norm EN 54-7 adresses smoke detectors that are generally found in homes or offices. This norm specifies the staff that should be burnt, ignition techniques, and delays for smoke detection. However, there is no specified test period for false alarms detection without smoke (but possibly dust). Using the criteria of this norm, the CNPP experts have validated in 2016 the respect of norm-defined detection delays by the Lynx algorithmics solution used in combination with color Bosch cameras when foam, cotton, or wood were ignited. In addition, hours of videos without smoke were used and processed by Lynx in order to prove the lack of false alarms. Initially based on algorithmics computing, this function was designed to detect an expanding smoke shape, using its color properties (grey levels) and transparency on the edges, as well as its expanding movement.
EVITECH has then built an image dataset of hundreds of thousands of smoke images, and trained an AI software (a DNN network, in a Deep Learning approach) to detect smoke situations in various contexts : big buildings with high ceilings, industry, recycling, public space, transports, etc. This approach led to an image based detection solution (not requiring a video), which is an advantage for an embedded function running over a parallel processor, or for the processing of many cameras periodically over a GPU card.
At last, this function has just been integrated in our Jaguar solution for the protection of sensitive sites, for several purposes :
It completes a tool that protects many industrial sites, which is logical for Jaguar customers,
It is implemented in the alarm engine as an object class to select and detect, which allows a detection with all criteria of the Jaguar alarm engine (position, size, duration, shape, speed, ...),
It relies on the Jaguar target detection and can thus benefit of the apparition area criteria and move criteria, which allows to manage industrial processes,
for all bi-spectral camera suppliers, who are more and more numerous, we can propose a bundle for the detection and tracking of the heat area over the thermographic image channel, and in parallel the smoke detection over the color channel, like on the image hereunder :
The solution will soon be installed over 2400 cameras on a large new site located in a foreign country, for the early detection of smoke inside buildings under high ceilings.