Sensitive Sites
Whatever the reason that makes you consider one site of your organization as sensitive, it should be protected: valuable goods, R&D intellectual property, economical data (headquarters), supply chain criticity, defense considerations...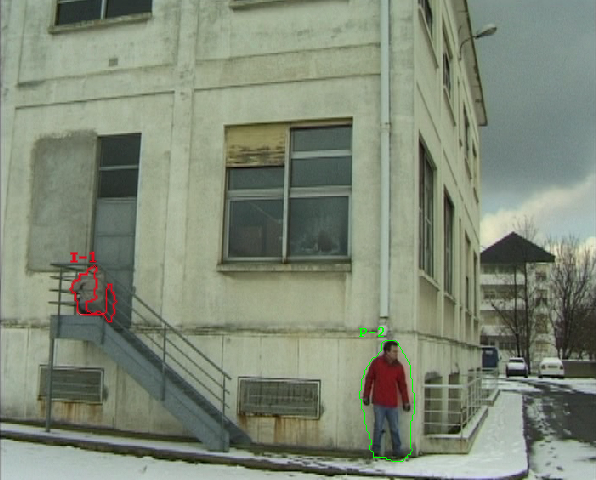 Fully specialized in sensitive sites & area protection, in outdoor conditions, EVITECH proposes its intelligent video surveillance solutions (video analytics) for all critical applications needing performance, sensitivity, robustness, outdoor and by all types of weathers : snow, fog, night, desert, ...
The smart video sensor connects itself to any kind of image data (BNC, IP, WIFI, DSL, Firewire, ...), decoding if required H.264, MPEG4, MJPEG, and many other formats, and provides an intelligent image analysis, resistant to any kind of outdoor conditions, for sensitive site protection applications : intrusion detection, abnormal behaviour, abandoned object, ...
It sends all the analysis data to a desktop (IP socket) or an alarm equipment (dry contactors), for the best integration with the selected or existing video system & architecture. Unlimited possibilites of alarm conditions are provided with real time pixel-accurate detouring of moving targets, alarm video recording, and alarm notification (through phone, e-mail, picture sending, web-site, etc), with very low false alarm rates (less than one per day most of the time in intrusion detection applications).
With very powerful functions such as real time one-pixel targets detection, our detectors (a PC platform running one of the JAGUAR software) provides precise information on each alarm (date, time, area, target, image enhancement and stabilization) in order to disambiguate the situation or constitute a crime evidence.
The couple made by the camera and the video analytics system is self sufficient, since it detects all alarms, filters wrong events (it is not connected by ADSL or GSM to any builder or third party external system), and provides short video sequences of good quality for the doubt raising.
Keywords : intelligent video surveillance, smart video sensor, automatic video detection, artificial vision software.

Crowd monitoring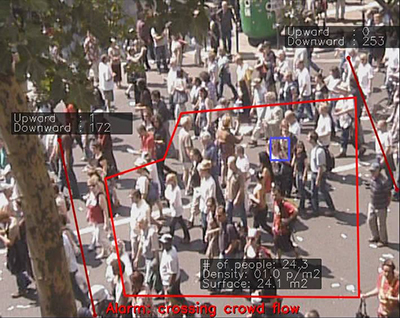 Peaceful management of Crowds relates to techniques for checking and maintaining Public Order in situations with large crowds, and/or particularly dense and mobile crowds such as those observed in large transport infrastructures, events or parks, in demonstrations, or in large cities centers.
In this field, it is crucial to ensure that (1) everybody arrives safely at his/her target place, and (2) following the authorized paths.
The EVITECH Lynx product helps crowd controllers to manage these crowd moves through intelligent video-analytics based monitoring tools using existing CCTV camera images for counting (in flows, or standing crowds), and to detect incidents, and produce statistics useful for experience consolidation.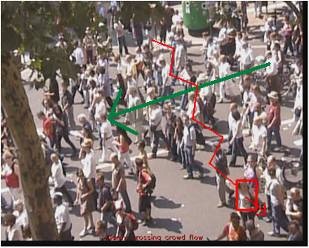 Situations that can be detected by Lynx are the following :
Detection of several/many people who fall,
Detection of threshold crossing (expressed in speed, density, possibly compounded with direction conditions, such as detection of high density -e. g. crushing risk-, or high speeds in several directions -e. g. collision risk-, or people running in a given direction -e. g. risk of falling from a train platform-).
Detection of a car/truck or a big object entering the crowd (possibly quickly, endangering people in the crowd),
Detection of smoke growing from the crowd or reaching the crowd (fire/choking danger),
Detection of sudden dispersion of a dense immobile group in sparse mobile crowd (e. g. possibility of a left victim, or manifestation of sudden fear...).
Detection of one or several people walking in non-authorized direction (e. g. climbing in an aircraft by the exit),
Detection of somebody crossing a crowd flow, possibly with a speed condition (e. g. entering by the exit, or suicide-bomber progressing quickly to control),
Detection of a dense immobile group formed in sparse mobile crowd (trouble in the overall people progress),
Many people suddenly run, or stop (fear),
Crowd flow suddenly changes (the place is suddenly empty, or, contrarily, there is a sudden rush of people, …),
Detection of some "hole" formed in the mobile crowd, and crowd flows passing on both sides of the hole (possible fall or incident not visible on the ground because of people around),
Likewise, detection of the formation of a standing group inside a mobile crowd, perhaps revealing an invisible fall in the middle, or a fight.
Please have a look at ourwhite paper about peaceful crowd monitoring.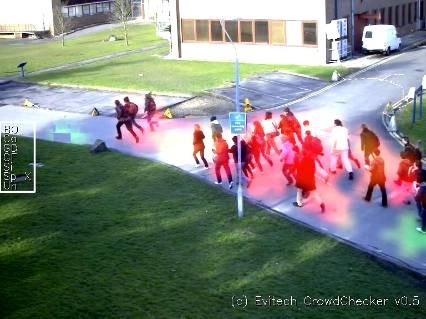 Defense
As the first EVITECH product in 2005, our military reserved video analytics solution EAGLE has been designed to detect, identify, track, and locate moving threats from a fixed camera image flow. It can use any kind of cameras (thermal cooled and uncooled, visible, intensified...) on any kind of image formats (analog, H.264, MPEG4, MJPEG ...). It is able to raise alarms, or trigger defense equipment, based on alarms generated by the image processing kernel, using object properties like position, size, direction, and speed. Its extreme sensitivity allows to use it at night, with a visible camera (proved at 2 lux), or on infrared images, with fine pixel detouring and identification. It can detect very light differences even under fog and snow, especially those that a human watch guard would miss after one hour attentive observation. For a remote target approach detection application, it can warn about intruders that represent no more than 1 pixel on the image.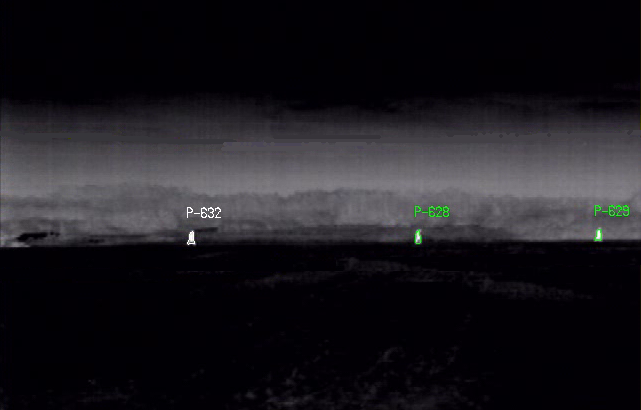 See the real time tracking of targets, with pixel-accurate detection, below :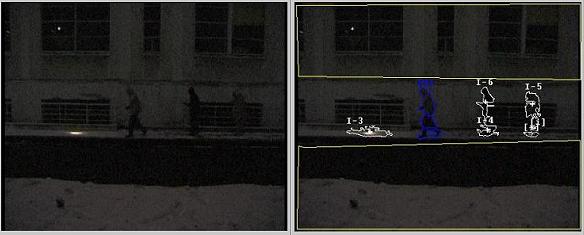 When infrared is compulsory (missions, land short term operations), it works perfectly on applications such as ground and maritime surveillance missions (Thales SOPHIE camera).
At night, by a 2 lux lighting ambiance (Sony 3-CCD camera), it allows also a very sensitive detection of nearly invisible threats. Thanks to its adaptative algorithms, it will reinforce detection by low light, high image noise, low contrast. We have night video examples at your disposal.
Its user friendly man machine interface makes it possible to configure alarm triggers (conditions/alarms) that are well suited to the mission purposes : simple surveillance, recording on events, up to integration into an embedded protection system, aboard a motorized vehicle or installed in fixed installations. Very quickly deployed and configured, it brings security to an area, enabling the men to concentrate on the core of the mission.
See below this border road surveillance, when the fog is coming :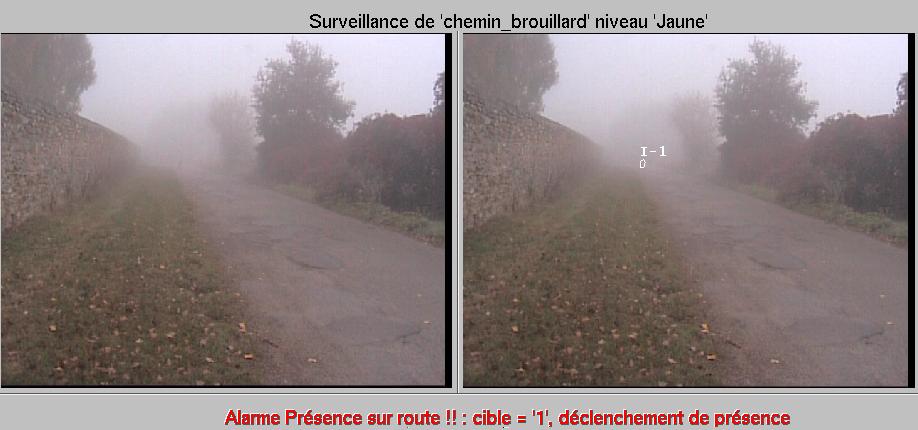 For inquiries and information research (Forensic), the EAGLE system can be deployed on a portable PC over batteries, to observe and bring alarms on a sensitive situation, or to count events (individuals, tanks, jeeps, ...).
For surveillance of areas visited by unauthorized visitors, or even snipers, the EAGLE system contributes efficiently to long-time observation and information of entry points, exits, and even very shortly used positions (e. g. windows of a large building). As the processing unit is separated from the camera, no loss of information about the shooter will be caused by a possible attack of the camera.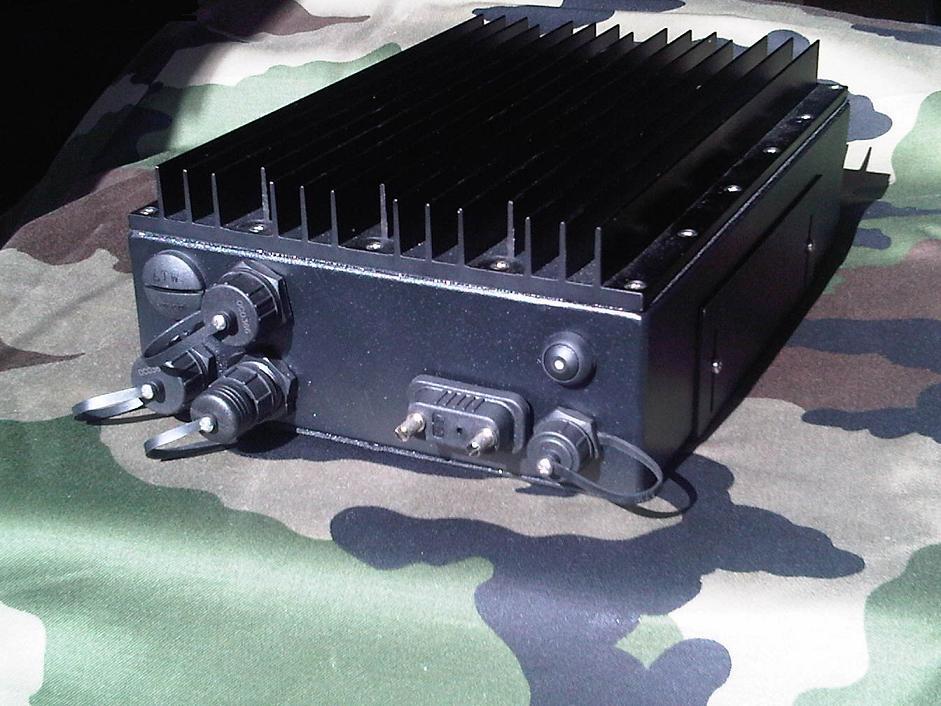 Available on industrial format units (19" rack) or on waterproof and ruggedized units (on the left), the software can be ported on a large range of standard hardware types.
State
EVITECH's video analytics solutions have been checked for long and are still regularly under tests by different public organisms in the perspective of public and government sites protection. Already deployed on sites and buildings belonging to various Ministeries (Interior, Defense, Culture, Health, ...) or to local authorities (cities, ...), our video analysis solutions have enabled the reinforcement of protection, with a significant budget reduction for these operations, either for their installation, or for their maintenance.
On these sites often close to open streets (contrarily to industrial sensitive sites, often settled far from public sight), our intelligent video surveillance tools enable -thanks to a warranty of low false alarms rates- a slight efficiency improvement of security teams, and a budget lowerage of human operations. In some cases, the system is so powerful that guards would not longer go out of the building for patrols ; they rely on the remote vision of alarms.
Thus, in a Building like the Modern Art Museum of Villeneuve d'Ascq (see photo), the Jaguar software fulfills missions like the following ones :
intruder detection depending on opening/closing time,
laid object detection, or detection of changes (tagging, ...),
suspicious moves detection (coming to the walls from the gardens),
roof protection, and protection of windows & openings of the highest floors,
sculptures protection outdoor (in the gardens).
For the case of other public buildings, missions can vary with applications like :
automatic triggering of raising obstacles when a car does not stop on control spots when approaching a sensitive site, or the its speed overcomes a limit,
outdoor perimeter protection, and noman's land protection,
water access surveillance (pools, rivers, channels...),
walls and facades climbing,
children entering water pools, on gardens open to public ,
...
Energy
One of the most frequent mission of the video analytics solution Jaguar is the protection of worldwide energy production & management sites, with in particular :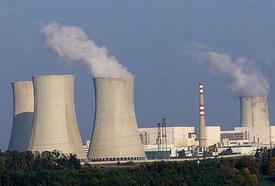 nuclear plants,
solar plants,
oil energy plants,
oil & gas sites (storing, transport, delivery)
transformation stations and substations,
water energy and cooling installations.
On these sites, Jaguar is used for various protection applications, e. g. in place of linear detection equipment (infrared, hyper-frequency, doppler), or complementing this equipment: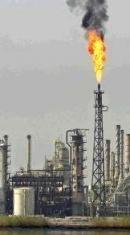 perimeter protection, in particular on new installations, for detecting the approach of an intruder only from cameras (saving installation cost of other detection equipment)
roof protection as well as borderside buildings, which could be climbed for entering,
high walls and fences surveillance (against escalade, or engined overpassing, ...),
water access surveillance,
cooling and filtering installation surveillance,
oil & gas pipes surveillance and oil & gas leaks/vapors detection,
flare surveillance (extinction or runaway),
outdoor fire start detection.
Oil & Gas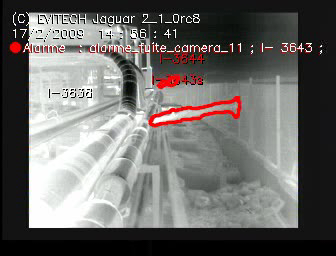 In order to secure the oil installations and to prevent any incident that may happen on an oil installation (such as misfunction, consequences for customers, pollution, ...), the video analytics Jaguar product from Evitech can detect from thermal camera images, any trouble in a sensitive area of the site, such as :
intruders around installations,
vapor leaks,
oil leaks,
fire starts.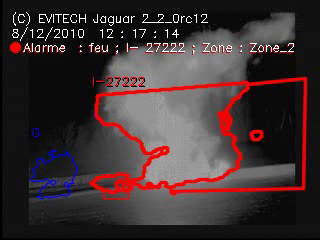 Thermal cameras generate grey-scale images where the grey-level is related to the temperature of the observed elements in the scene (pipes fences, cracking tours, ...). They ensure a reliable image in permanence, day and night, as well as in fog or smoke situations. A thermal camera does not suffer from visibility limitations as human eyes or classical optical cameras do.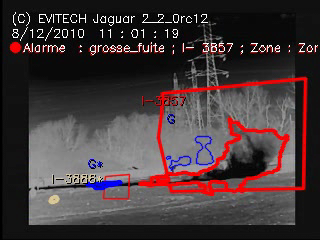 Specific software developments and tests have been done by EVITECH in order to develop these solutions for reinforcing security of oil & gas installations. After having deployed several installations the company is able to advise and study new projects with the appropriate methodology and agreements (ATEX, SEVESO security agreements) for these projects.
Urban
Around the JAGUAR video analytics software product, EVITECH offers a complete toolbox of functions for end-users to organize freely without additional cost per function : individual behaviour analysis, small groups detection, alarms raising or video display pre-emption, different rules during day/night, user defined rules taking into account and combining position, speed, direction size, duration, etc... The analysis is done during camera's immobility periods. On a dome, Jaguar enables to drive surveillance patrols, e. g. 10 to 20 seconds per position, and adapted rules on each position.
True reference : EVITECH has installed early 2010 a full set of applications on the Lyon Harbour (see the project presentation) and our customer reference.
As examples of functions, Jaguar can propose :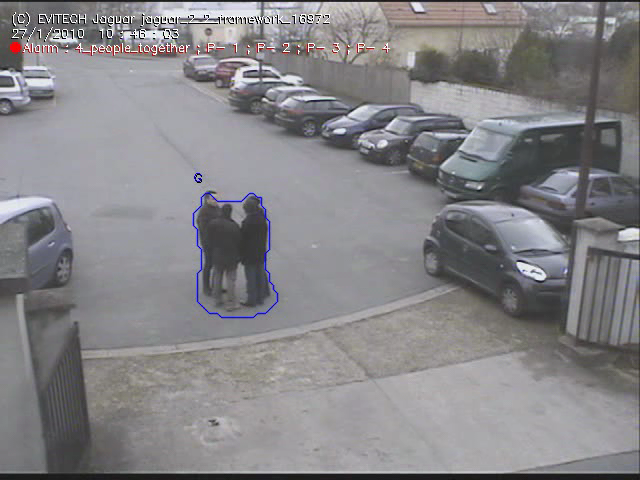 Detection of groups/fights : hour, place, estimation of number of persons, quick moves.
Protection of cash distribution machines : detection of individuals standing close to the machine, detection of a newcomer approaching while somebody is already on the machine, detection of fast moves to or from the machine.
Loss of verticality (fall of an individual) : one person classified as a walking individual falls.
Detection of somebody climbing a facade.
Detection of wandering dogs: shape & size detection, not led by a person.
Detection of stopping vehicle : parking not on a park place, dangerous stop, accident, ...
Detection of bad direction drive : one way, ...
Surveillance of a sensitive perimeter (Christmas market village, celebration, tent…) and detection of intruder.
Detection of changes in the streets (outside parking places) : broken glass, tags, etc.
Detection of an intruder in an official building during closing period (city hall, police station, bank, …).
Detection of a laid object.
City equipment protection.
Detection of outstanding moves : vehicles (e. g. : pedestrian area), motorbikes, running person, …
Video-management of urban areas : statistics, classification, speed measures...
Detection of dangerous situations : excessive speeds, pedestrians, risky situations close to water pools or rivers, ...
Crowd supervision (including dense crowds) : see the LYNX application.
Transports
In public transports (airports, trains, roads & motorways), safety of public transportation, as well as protection of transported people & goods, take multiple benefits of products like JAGUAR. At small cost, using already installed cameras, the JAGUAR video analytics system can detect various dangerous situations such as something or someone falling on the rails or tracks, intruders in technical offices and storing areas, as well as abandoned objects.
The following image is extracted form work done with french subway (CREDS - AVSS 2005) :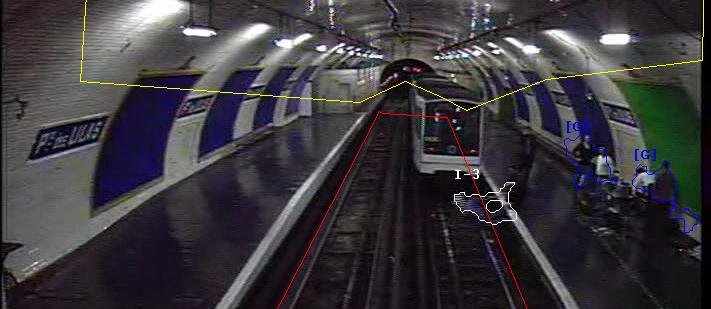 This is somebody wandering at night :


The following images are extracted from work done in an airport :

For harbors, the EAGLE & JAGUAR video analytics software products detect moves, on sea (maritime surveillance), on harbour quays, on access tracks or railways, and help to protect the whole port installations, as well as sensitive goods (energy, ...). In complement of radar that ensures detection on large distances for important ships, these products allow to develop surveillance tools on smaller areas such as harbour-basin, or harbour bay, at very interesting costs since it only uses images flows of cameras that mainly already exist. Here, you can see an infra-red surveillance with EAGLE of a Zodiac and cargo liners container ships (from a CEDIP Infrared systems camera) :

In the intrusion detection domain, EAGLE protects all kinds of harbour buildings, fences, at open and closed times and days, access points, and of course accesses from the sea. Detection of small ships and all kinds of swimmers can be quite easily done from infrared images (sometimes quite too noisy in the visible fields), that is perfectly filtered by the thermal captor hereunder (notice the two small objects on the left) :

On ship control applications by size or speed, the software can ensure a preliminary size and speed control automating most of access verifications and possibly device management (defence device triggering), reserving occasionnally doubtful cases to man.
On the beach, intruders coming from the sea are detected too :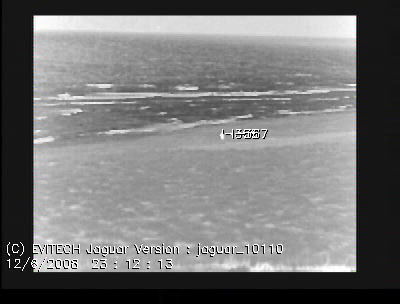 Mobile uses
Many temporary installations or travels all around the world are situations of high risk, against which advanced protection tools are of high value :
During a travel in a risky country (attack, highjacking, piracy), to protect someone,
During a public event, because of the installations, possible wealth, and public presence (temporary installations, feasts, exhibitions, ...), to avoid accidents (e. g. somebody climbs on the installations at night when closed), or to avoid robbery,
On a working area (building, road, or other construction), to avoid accidents and robbery of building materials (metal).
EVITECH has formerly proposed the VDS200 case, a small mobile & video analytics tool. Quickly connected to 1-4 cameras, this case can be powered by sector, or other means in 8-24 V-DC (battery), and will monitor automatically installations observed by the cameras.
If used to monitor rooms around a V.I.P., it would play a MP3 sound file (e. g. a phone ring) or activate a third party device (through a dry contactor), and warn its owner or the body guards of an intrusion or a trepasser.
If used to monitor a building site, or temporary installations, it would send any intruder alarm with a photo on a GSM phone, using a third party 3G USB key with a SIM card.
Even if it is still possible to propose them in case of specific need, these products have progressively been replaced by hardened systems without screen & keyboard, that are configured with a laptop. The VRDB400, for example, is a waterproof embedded server able to monitor 1-4 anazlog/digital cameras. It is used outdoors and in marine environment.
Visitor unicity control
In small and sensitive rooms like entry sas, ensuring the unicity of a visitor is an important task that can be delegated to our Jaguar video analytics application. This is deployed in financial sites (One of our more sensitive installations is in Place Vendôme in Paris), industrial fields (e. g. Thomson), or nuclear process (confidential).
Safety in bank resorts will lead banks to remove cash distribution from counters, and distribute single-use cards for the ATM in the corner. This will lower risks inside the bank agencies, but move this risk towards the automaton, and to the cash conveyors.
In order to bring security to these transports and to technical infrastructures, complementing tools like badge readers, and fingerprints readers, JAGUAR can improve security controlling intruder's unicity, and inside unicity of presence, locking the safe in case of doubt. See below the example of a bank agency map to understand this organisation :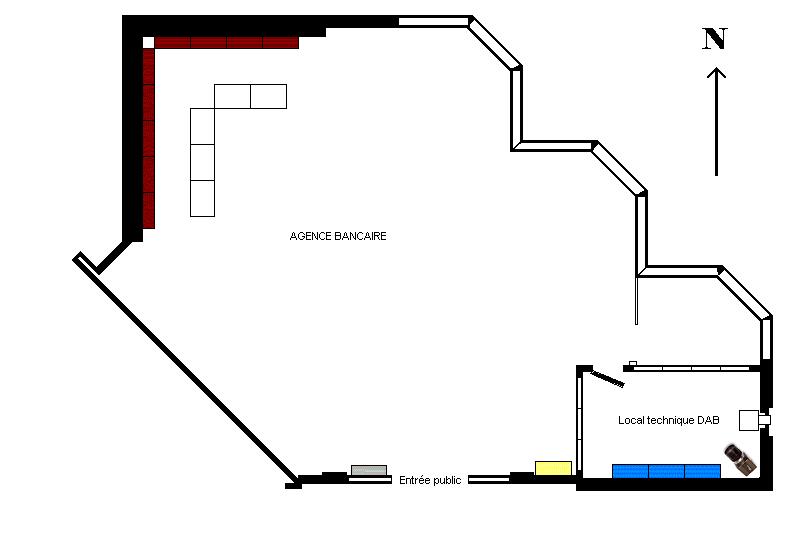 By CCTV image analysis, as well as shape analysis, JAGUAR ensures that only one person has entered the room, and may lock doors and/or safe if more than one is there. An alarm with a picture can be sent immediatly to the agency manager and remote security teams, to be able to cancel the alarm in case of mistake (e. g. cleaning teams), and call security forces or police if the alarm is genuine. JAGUAR contributes this way to diminish fraud.
Detecting immobility, it also ensures the protection of workers and customers if they faint or fall in isolated rooms or at private safe access.