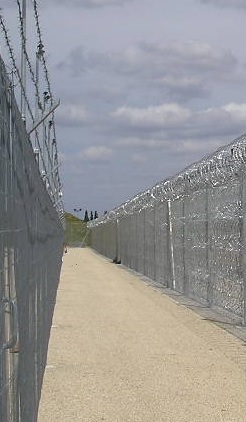 EVITECH has finalized the purchase order for the protection of the perimeter of a large international research center in Europe. Close to a secondary road, this site has a complex perimeter with many small peculiarities. Thermal uncooled cameras will monitor the site single fence, for detecting by day and by night any intruder through or over the fence, including those using an elevator. Detection drives color domes in order to zoom at detected targets.
In a region with an hostile climate, this project is the issue of a long study on the site, with a review, case by case, of each peculiarity, in order to assess each camera positions.
It is always preferable to study the camera implantation before the works, in order to check these camera positions to ensure the detection, and the possible obstacles to the camera view, such as small walls, vegetation, buildings, doors, containers, and storage, close to the site border.
Last, the fence itself (cf. image) can constitute an obstacle depending on the camera position. For example, in the image here, the corridor is under a good surveillance, but the corner at the end on the side is not visible. When studied on a map viewing a plane view of the site, we could imagine that this corner is in the camera cone, and that the camera views after the corner. When confronted to this situation in three dimension, we see that the thickness of the fence metal hides completely the corridor corner.