Palaiseau, February, the 15th : EVITECH has delivered two advanced protection systems for highly sensitive sites, against the terrorist attack risk, with one or several heavy vehicle. EVITECH's video analytics enables detection of dangerous behaviors, and breaks the terrorist attack before it becomes a disaster.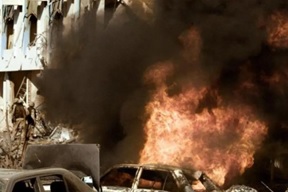 The threat : As recent history has shown, in Algeria or in the Middle East, one type of terrorist attacks against a sensitive site consists into sending one or several bomb vehicle (a vehicle filled with explosive devices) which come to explode agains a wall or against a site door. This type of attack is very dangerous since it targets the collapse of the walls, or even the collapse of the whole building. It may has a catastrophic impact in terms of victims and image. The repetition, in case of two successive vehicles or more, hits the first rescuers,creating and additional accident, and may open a path to the site inside, for further attacks.
A solution in three steps :
Physical protection : the most efficient protection againt this type of attack consists to stop vehicles before they touch the walls. A ditch is digged in the ground, and a merlon is laid behind, or heavy obstacles are laid, so that outside the walls, so theat explosions happen outside the walls and not against the walls. For gates, vehicles should be impeached to come at the contact of the building or of the door. Baffles may help to slow down a vehicle but have no effect on a vehicle filled with explosives.
Access control : a vehicle compulsory stop area should be marked outside the site, with appropriate signalization, and control of the driver who has to come by feet for the control of his documents. Before the entrance hall, it is very efficient.
Video analytics : it completes the access control with the Jaguar video detection solution. It enables the immediate detection of a vehicle which does not stop at the control point, and trigger the raise of a lifting bollards or a harrows, which will stop the vehicle before the gate. A camera is laid on the wall above the entry, monitors the scene, and sends the images to the Jaguar video analytics solution. The latter estimates the vehicle speed, detects the lack of stop, and triggers the raise of the obstacles.
As a complement, a detection of pedestrian around the bollards with the same camera and Jaguar video analytics solution, allows to avoid their sabotage.
Once again, EVITECH demonstrates the flexibility of its video analytics solutions, with acapacity to propose performing approaches for non conventional needs.